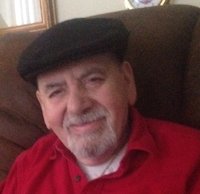 Angelo G. Montello
Angelo G. Montello, 72, of North Bangor, NY., passed away unexpectedly Monday, December 19, 2017, at the U.V.M. Health Network Alice Hyde Medical Center, in Malone, NY., with his loving wife and family by his side. He had been a a patient there since December 15.
Born in Staten Island, NY., August 5, 1945, he was the son of Angelo G. and Louise Cannarozzi Montello, Sr.
He served three tours of duty with the United States Army 82nd Airborne Division as a Airborne Ranger in Viet Nam and was Honorably Discharged.
On July 8, 1992, he was united in marriage to the former Victoria Pivar Haines in Argyle, NY. She survives.
For many years, Angelo has owned and operated Hobby Stores in several locations including his last store, in Mooers Forks, NY.
He enjoyed fishing, train collecting, collecting cars and being a motorcycle instructor. He was a master mechanic, marksman, and parachutist. His favorite times were spent with family and friends and on his Harley Davidson motorcycle having logged over a million miles through the years.
Along with his wife, Victoria, he is survived by his mother, Louise Montello of Brooklyn, NY., two daughters and a son-in-law, Parry and Anthony Bissonette of Malone, NY., and Olivia Montello of Denver, CO., four sons and two daughters-in-law, Oliver Montello of Littleton, CO., Dominick and Liah Montello and Jason Montello all of Long Island, NY., and Robert and Nicole Mathes of Catasaque, PA., one brother, John Montello of Staten Island, NY., three sisters and a brother-in-law, Theresa Sutton of Brooklyn, NY., Patricia and Alex Pasterick of Asbury, NJ., and Carol Tancredi of Staten Island, NY., one granddaughter, Olivia Mathes and several nieces, nephews and cousins.
He was predeceased by his father, Angelo G. Montello, Sr.
There are no calling hours. Funeral Services and burial will be private and at the convenience of the family.
Donations may be made in his memory to the D.A.V.
Arrangements are through the Bruso-Desnoyers Funeral Service, Inc. of Malone, NY.
Online condolences may be made to the family at www.brusofuneralservice.com.