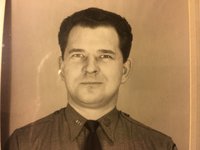 Chester D. Buhyoff
Chester D. Buhyoff, 80, of Malone, NY., passed away Sunday afternoon, December 31, 2017, at his home, while under the loving care of his wife, Theresa and Hospice of the North Country, Inc.
Born in Lockport, NY., January 26, 1937, he was the son of the late John and Helen Wilczek Buhyoff.
Chet served in the United States Army stationed in Germany from October 1958 until his Honorable Discharge in September 1960.
After his discharge, he was employed as a mason in Lockport, NY. and later was employed by General Motors also in Lockport. From 1965 until 1987, Chet served as a Trooper with the New York State Police. After his retirement, he worked as a mason on the New York State prisons in Malone, NY. He also served as a court security officer for Robert G. Main, Jr. at the Franklin County Court House, in Malone for several years.
He was a communicant and choir member of St. Andre Bessette Parish at Notre Dame Church, in Malone, NY. He was also a life member and past Exalted Ruler of the Malone Lodge of Elks, a member of the N.Y.S Troopers Association and the Malone Golf and Country Club. He enjoyed hunting, fishing and bowling.
On October 10, 1970, he was united in marriage to the former Lorraine L. LaBelle in Moira, NY. She predeceased him on July 4, 2006. On July 17, 2010, he was united in marriage to the former Theresa Tupia Butcher at Notre Dame Church, in Malone, NY., by Msgr. Dennis Duprey. She survives.
Along with his wife, Theresa, he is survived by two stepsons, Kevin McGovern and his wife, Maryann of Peru, NY., and Thatcher Butcher and his wife, Charlene of Baltimore, MD., one stepdaughter, Lorna Myers and her fiancée, Joe Puskar of Catabawa, VA., four step grandchildren, Aaron and Alyssa McGovern, Arthur Butcher and Ellison Myers, three step great grandchildren, Christopher McGovern and Finnigan and Emma Drowlette and a niece that he was very close to, Linda Tucker of Portland, OR., and many nieces, nephews and cousins.
Besides his parents, and his first wife, he was predeceased by three brothers, Gregory, Terrance and John Buhyoff and one sister, Florence Van Luven.
Calling hours will be Thursday from 3-6 p.m. at the Bruso-Desnoyers Funeral Home, in Malone, NY. The Malone Lodge of Elks will conduct a wake service at 5:30 p.m. at the funeral home. A Mass of Christian Burial will be celebrated on Friday at 10 a.m. at Notre Dame Church, in Malone, NY. Burial will be in Notre Dame Cemetery, in Malone, in the Spring.
Donations may be made in his memory to the Alice Ballard Fund of Hospice of the North Country, Inc. or to the Malone Volunteer Fire and Rescue Department.
Arrangements are through the Bruso-Desnoyers Funeral Service, Inc. of Malone, NY.
Online condolences may be made to the family at www.brusofuneralservice.com.