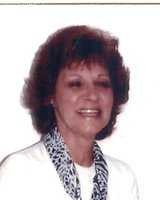 Rose E. Rivers
Rose E. Rivers, age 75, of Malone, NY., passed away Saturday afternoon, January 6, 2018, at her home while under the loving care of her family and Hospice of the North Country.
Born in Malone, NY., on August 13, 1942, she was the daughter of the late Kenneth and Germaine Leduc Hutchins. Rose obtained her GED and went on to receive an Associates Degree from NCCC in Malone, NY.
She was first employed in food service for the Malone Central School District, also worked at Tru-Stitch Footwear and North Star Industries in Malone and was last employed as a bookkeeper for Raymond Street Daycare in Malone.
Survivors include one daughter Sherri Rivers and her wife Joanne McDonald of Massena, NY., three sons and one daughter in law, Lee Rivers of Malone, NY., John and Suzie Rivers of Bombay, NY., and Randy Rivers and his companion Tammy Gibson of St. Regis Falls, NY., by a close family friend, Mike Calogero of Malone, NY., one brother, Wayne Hutchins of Malone, NY., and by two sisters and brothers in law, Sandy and Steve Lavier and Mandy and Dennis Daley all of Malone, NY. She is also survived by twelve grandchildren, Christopher Wagner, Chad Rivers, Joey Rivers, Stephanie Reyes, Candy Saucier, Daniel Murphy, Wayne Henderson, Lisa Henderson, Dave Wells, Lexi Shook, Brandon Shook and Eric McDonald, eleven great grandchildren and several nieces and nephews.
Besides her parents she was predeceased by a daughter Sonya LaMondie Wagner in 2000 and by several brothers and sisters.
Calling hours will be on Friday, January 12, 2018, from 2-4p.m. at the Bruso-Desnoyers Funeral Home in Malone, NY. A funeral service will be held at 4p.m. in the funeral home chapel. Burial will take place in St. John Bosco Cemetery in the Spring.
Donations may be made in her memory to the Alice Ballard Fund of Hospice of the North Country Inc. Rose's last request was for everyone to please leave room in your hearts for angels to dance.
Arrangements are through the Bruso-Desnoyers Funeral Service Inc. of Malone, NY.
Online condolences may be made to the family at www.brusofuneralservice.com.