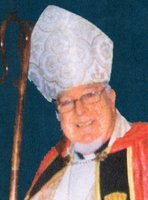 Richard Brent MacLennan
It is with deep sadness and yet great joy that we celebrate the passing of the Archbishop Seraphim (Richard Brent) MacLennan, into the kingdom of Jesus Christ, our Lord. Archbishop Seraphim was consecrated to the episcopacy in 1981 on February 28th. His service to our Lord was faithful, and was filled with a deep spiritual hunger to bring those he encountered to an understanding and love of the Lord Jesus he served.
+ Seraphim was born in Jamaica Plain, Ma on April 15, 1931 to Albert and Dorothy(Brann) MacLennan. He when to public schools in Bangor, Me; then he graduated from Deering High School in Portland Me. After graduating from business school, he married his first wife Elaine (Wadsworth), who survives him. They were married 20 years and had four children. Bruce who lives with his second wife Kanako and their 2 sons, Ewan and Evan, in Old Greenwich Ct. Bruce also has two older sons from his first marriage. Angus and Jack. Steven (Zeb) and Marybeth, from Orinda Ca, who have two children John and Marisa. Carol MacLennan from Portland Me, who has one daughter Katie. Nancy Neuhaus and her husband Mark live in Brunswick, Me. Richard then married Sally (Peckham) Seifert, who also survives him, they were married 18 years and had two girls. Sarah MacLennan lives in Cape Coral FL with her companion Dominic, they are raising two children, Lila and Dorian. Christy Polk and her husband Wayne live in Baileyville Me; and are raising one daughter, Harper. Richard married Dorothea ( Lorrain) on April 25, 1992 at St Seraphim's Chapel in Taunton, Ma. They had no children. Sr Dorothea had two children from her first marriage, one daughter Kimi and Andrew Leach from Millington, MI; where they are raising three children, Owen, Chloe, and Noah. She also had one son Shawn Lorrain who predeceased her in 2014. Sr Dorothea predeceased + Seraphim in May of 2015
+ Seraphim had many interests, he loved to play the drums, he and his first wife Elaine were part of the Boston Symphony Orchestra, early in their marriage. + Seraphim was also an accomplished pianist and took great joy in playing for many old-fashioned hymn sings in the several churches that he pastored over the years. Richard also loved theater and directed several plays for local theater groups, while living in Maine. He had his skippers license and loved being on the ocean, and he told many stories about being a lobsterman, a U.S. park ranger known as ranger Dick, and working with the Audubon Society with his then wife Sally as they helped to restore the Puffins birds to the rocky coasts of Me. Of all the things that + Seraphim lived out and experienced in his life his spiritual journey was his most important part of his life. In 1977 when +Seraphim was ordained to the priesthood his life became more complete, then 1981 when he was consecrated Archbishop he took on the burden of this office and did all he could to serve faithfully all the remainder of his years.
We at Emmaus Abbey, Br. John R. Jones, Sr. Magdalene (Carol) Johnston SSA. And Mother Francis (Elaine) Harvey SSA. Of Fort Covington Center, N.Y. Archbishop Roger Paul, and Kathleen Willingham of St Stephen's Chapel of Westville, N.Y.; as well as the many friends we have gained in 24 years will miss him deeply. There will be a memorial service in June on the 8th and a double committal service following.
Arrangements are through the Bruso-Desnoyers Funeral Service Inc. of Malone, NY.
Online condolences may be made to the family at www.brusofuneralservice.com.