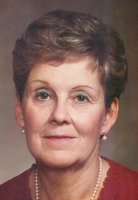 Shirley MacAbee Clark
Shirley M. Clark passed away Friday, January 12, 2018, at UVM Health Network Alice Hyde Medical Center, in Malone, NY.. She had been ill for a short time and was blessed to join the many loved ones who had passed before her.
Shirley, born June 16, 1928, was the daughter of Gertrude (McCabe) Stone and Wilbur Stone. She graduated from St. Joseph's Academy as Valedictorian in 1945. She attended A. Barton Hepburn Hospital School of Nursing in Ogdensburg earning her RN license in 1948. She returned to Malone and worked at Alice Hyde Hospital for many years. In 1952, she married F. John MacAbee. He predeceased her in 1960. Shirley married Edward M. Clark in 1963. He predeceased her in 2007. She and Ed started a children's clothing business in the mid-sixties called Corner Castle. Several years later, they bought Empsall's Department Store and continued the small town department store for many years until their retirement. Shirley then collaborated with Alice Ballard to help established Hospice of Northern New York in the Malone area. She worked as a Hospice Nurse for many years and a volunteer in her later years. Shirley also worked at a North Country Home Health Care Services where she trained and supervised Home Health Aides.
Shirley is survived by two daughters and a son-in-law; Mary (MacAbee) Moore and Gary Moore of Burke and Ann MacAbee of Heuvelton. She has five grandchildren and their spouses: Amanda (Moore) Salamin and Rick Salamin of Essex, Vermont; Elizabeth Moore of Malone; John Moore of Tucson, Arizona; Jennifer (MacAbee) Price and Ryan Price of Seattle, WA, and Angela MacAbee of Lake Placid. She has two great-granddaughters, Rebecca and Genevieve Salamin of Essex, Vt. Shirley is survived by her brother and sister-in-law, Donald E. And Kay Stone of Naples, Florida. She is also survived by her daughter-in-law, Marilyn (Courson) MacAbee, as well as, nieces and nephews.
Shirley was predeceased by her father, Wilbur Stone; her first husband, F. John MacAbee; her step father; Leo St. Mary; her mother, Gertrude (McCabe-Stone) St. Mary; her second husband, Edward M. Clark (2007); her sons, Bradley G. Clark (2012); and Jonathan P. MacAbee (2017).
Throughout her life Shirley loved to knit and was especially fond of gardening. Among the many personal gardens she cared for, she planted and maintained the flowerbed in the Arsenal Green. Shirley was an active member of the Malone Garden Club and the Golden Age Club.
Calling hours will be held on Wednesday January 24, 2018, from 4-6 p.m. at the Bruso-Desnoyers Funeral Home in Malone, NY. A Mass of Christian Burial will be held on Thursday January 25, 2018, at 11 a.m. at Notre Dame Church, in Malone, NY. Burial will be in the Old St. Joseph's Cemetery, on Fort Covington Street, in Malone, NY., in the Spring.
Arrangements are through the Bruso-Desnoyers Funeral Service, Inc. of Malone, NY.
Memorial Contributions may be made in her name to The Alice Ballard Fund of Hospice of the North Country, Inc., in Malone, NY.
Online condolences may be made to her family at www.brusofuneralservice.com.