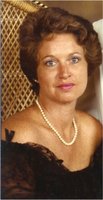 Barbara Killingsworth
Barbara Killingsworth, 71, of Moira, NY., passed away at her home, Monday night, January 22, 2018, while under the loving care of her family and Hospice of the North Country, Inc.
Born in Riverside, CA., October 23, 1946, she was the daughter of the late Samuel and Nancy Gibbs Pivar.
In 1973, she was united in marriage to Gus Zaharakis. He predeceased her in 1980.
Survivors include her sisters, Victoria P. Haines of North Bangor, NY., Deborah Powers of Moira, NY., Carol Ashlaw and Anita Plann both of Malone, NY. and several nieces and nephews, Parry and Anthony Bissonette of Malone, NY., Robert and Nicole Mathes of Catasauqua, PA., Tiffany Generous of Malone, NY., and Shawn and Jamie Niles of Moira, NY.
Along with her parents and her husband, she was predeceased by a brother in law, Angelo Montello.
There are no calling hours or funeral service. A Graveside Service will be held in the Spring with the Rev. Raymond Moreau officiating at Notre Dame Cemetery, in Malone, NY., on a date to be announced.
Donations may be made in her memory to the Alice Ballard Fund of Hospice of the North Country, Inc. in Malone, NY.
Arrangements are through the Bruso-Desnoyers Funeral Service, Inc. in Malone, NY.
Online condolences may be made to the family at www.brusofuneralservice.com.