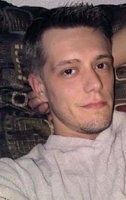 John W. Allen
John W. Allen, 37, of Brushton, NY., passed away unexpectedly Thursday, January 25, 2018, at the U.V.M. Health Network Alice Hyde Medical Center, in Malone, NY.
Born in Ontario, CA., September 2, 1980, he is the son of Paul and Deborah LaFlesh Spaulding. He graduated from Brushton-Moira High School, in 1999.
John was employed as a waiter by several restaurants in the area, including Applebee's in Plattsburgh, NY., BMJ Midway Market in Malone, NY. and Twin Leaf in Hogansburg, NY.
He enjoyed skiing and bowling. He had great joy in playing practical jokes and pranks on his family and friends.
Along with his parents, he is survived by his maternal grandfather, Arnold LaFlesh of North Bangor, NY., his paternal grandmother, Susan Spaulding of North Bangor, NY., one brother, Ryan Spaulding and his companion, Kyra Donaldson, of North Bangor, NY., one sister and brother in law, Kimberly and Adam Denny of Malone, NY., two nieces, Katrina and Riley Winters, one nephew, Rowan Denny all of Malone, NY., and several aunts, uncles and cousins.
He was predeceased by his maternal grandmother, Elizabeth LaFlesh and his paternal grandfather, Pascal Spaulding.
Calling hours will be Thursday, February 1, 2018, from 10 a.m. until Noon, at the Bruso-Desnoyers Funeral Home, in Malone, NY. A Funeral Service will be held at Noon in the funeral home chapel, with the Rev. Raymond Moreau officiating.
Donations may be made in his memory to Alcoholics Anonymous.
Arrangements are through the Bruso-Desnoyers Funeral Service, Inc. of Malone, NY.
Online condolences may be made to the family at www.brusofuneralservice.com.