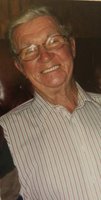 Robert D. Timmons
Robert Daly Timmons, 80 of Fort Covington, NY., passed away on January 27, 2018, at the Highland Nursing Home, in Massena, NY., his home since June 2014.
Bob, the son of Eugene J. and Frances Daly Timmons, was born in Malone, NY., on January 29, 1937, attended St. Joseph's Academy and graduated in 1955. He entered the US Army after graduation, served 3 years in the States and Germany, with the 510th Tank Battalion and was honorably discharged in 1958 with the rank of sergeant. Bob returned to Malone, worked with his father and brother at the Puritan Laundry and Dry Cleaning. In 1961 he was employed by General Dynamics Astronautics in the security unit until completion of the 12 missile sites in New York and Vermont. In September 1962 until his retirement in November 1991, he was employed at Reynolds Metals Company in Massena as a laborer, foreman and later part of the security and medical team. Bob was an EMT which he used regularly as one of the original members of the Moon Valley/Titus Mountain Ski Patrol. In April 1968 he was nominated and awarded membership into the National Ski Patrol and assigned the lifetime number of 3221.

As a young man he was an avid horseman. He rode in the 100 Mile Trail Ride in Woodstock, Vermont, twice, winning it in his age group at the age of 13. He continued riding in local horse shows until graduation. He was also a motorcycle rider for many years and was a member of the Retreads Motorcycle organization, for riders 40 years and older. He was a proud member of AA for over 30 years. In his retirement years, he enjoyed pitching horseshoes, taking motorcycle trips with his wife and friends, playing softball with his son and friends, loved watching the granddaughters play in their various sporting activities as well as being outside whether working around the house or enjoying his great grandchildren.
On August 1, 1959, he was united in marriage with the former Diane Farden in St. Patrick's Church, in Chateaugay, NY. They resided in Malone until moving to Fort Covington in 1965.
He is survived by his wife of 58 years, Diane, one daughter, Robin, one son, Peter, four granddaughters: Deylin (Marty) Jacobs, Valen Timmons and her companion, David Johnson, Jenna Timmons and Sky Timmons all of this area, six great grandchildren: Zayden, Drace, JT, Devanni, Daven and Everly, one sister, Jean McCaffrey, one brother-in-law and his wife, David and Anne Farden and one sister-in-law, Kristen Green.
He was predeceased by his parents, a brother, J. Patrick Timmons, and his wife, Gail, a nephew, Brian Timmons, two brothers-in-law, Bruce McCaffrey and Robert Green and his mother and father-in-law, Maurice and Patricia Farden as well as several aunts, uncles and cousins.

A Mass of Christian burial will be celebrated on Friday, February 2, 2018, at 11:00 am, at St. Mary's Catholic Church, in Fort Covington, NY., with the Rev. Thomas Kornmeyer officiating.
Donations may be made in his memory to the Fort Covington Volunteer Fire and Rescue Department.
Arrangements are through the Cappiello-McKenzie and Cosgrove Funeral Home, in Fort Covington, NY.
Online condolences may be made to the family at www.brusofuneralservice.com.