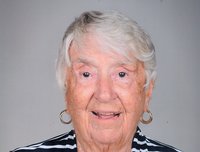 Eunice M. "Eunie" Harvey
Eunice M. "Eunie" Harvey, 97, of Bombay, NY., passed away early Monday morning, January 29, 2018, at the St. Regis Nursing Home, in Massena, NY. She had been a resident there since December 3, 2015.
Born in Bombay, NY., December 23, 1920, she was the daughter of the late Dale and Mabel Doonan Harvey. She graduated from Bombay High School in 1937 and received her B.A. in Social Studies and Social Work from St. Rose College, in Albany, NY. in 1941 and her Masters in Guidance from St. Lawrence University, in Canton, NY.
Eunice taught for one year at Brushton-Moira Central School. For the next fourteen years, she taught at St. Regis Falls High School, in St. Regis Falls, NY. From 1958 until 1961, she taught with the Army Teachers Corp in Nuremburg, Germany. After returning from Germany, Eunice taught at Salmon River Central School, in Fort Covington, NY., from 1961 until her retirement in 1983. She was Chairperson of the History and Social Studies Department and always welcomed students to gather in her homeroom.
She was a communicant of St. Joseph's Church, in Bombay, NY., where she was a Eucharistic Minister. She was a life member of the St. Joseph's Altar Rosary Society and past treasurer. Eunice was a volunteer for Meals on Wheels. She was a member of the Bombay Historical Society and Malone College Club. She enjoyed gardening, reading, golfing, political discussions, cooking, genealogy, shopping trips to Syracuse, NY., and caring for her cats and dogs. She enjoyed going on the Future Teachers Association trips to New York City, and her many trips to Europe especially Germany. She cherished her time spent with family and friends.
Survivors include a sister in law, Jackie Harvey of Fort Covington, NY. and several nieces and a nephew, Ann Dennis, Julie Howard, Martha Lucear, Mary Beth Trombly, Katie Smith and Patrick Harvey, a life long friend, Judy Tierney of Bombay, NY., and fourteen great nieces and nephews.
Along with her parents, she was predeceased by one brother, William C. Harvey.
Calling hours will be Monday, February 5, 2018, at St. Joseph's Church, in Bombay, NY., from 10 a.m. until Noon. A Mass of Christian Burial will be celebrated at Noon, with the Rev. Thomas Kornmeyer officiating. Burial will be in St. Joseph's Cemetery, in Bombay, NY., in the Spring.
Donations may be made in her memory to St. Joseph's Church or to the Bombay Volunteer Fire and Rescue Department.
The family would like to extend a sincere thank you to the staff of the St. Regis Nursing Home, in Massena, NY., for the care given to "Eunie".
Arrangements are through the Cappiello-McKenzie and Cosgrove Funeral Home, in Fort Covington, NY.
Online condolences may be made to the family at www.brusofuneralservice.com.