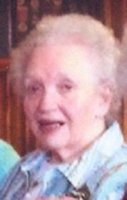 JoAnne J. Lauzon
JoAnne J. Lauzon, 83, of Fort Covington, NY., passed away Tuesday night, January 30, 2018, at the Meadowbrook Nursing Home, in Plattsburgh, NY. She had been a resident there since June 7, 2017.
Born in Westville, NY., May 27, 1934, she was the daughter of the late Alfred and Irene Northrup Robinson, Sr.
She graduated from Franklin Academy, in Malone, NY., in 1951. She later graduated from North Country Community College in the L.P.N. Program.
On August 24, 1951, she was united in marriage to Rodrigue J. Lauzon, Sr. at St. Francis of Assisi Church, in Constable, NY., by the late Rev. F. Gordon Coseo. He predeceased her on May 29, 2011.
JoAnne worked as an L.P.N., at the Alice Hyde Medical Center, in Malone, NY., for many years in the Maternity Department and throughout the hospital. She retired several years ago.
She was a communicant of St. Mary's Church, in Fort Covington, NY., and a life member of the Altar Rosary Society. She was also a member of the L.P.N. Club and past treasurer.
Survivors include three sons and a daughter-in-law, Rodrique and Mary Emily Lauzon, Jr. of Westville, NY., Rene Lauzon of Sharon Springs, NY., Peter Lauzon of West Columbia, SC., seven daughters and six sons-in-law, Lynn and Bill Russom of Niskayuna, NY., Elizabeth and Vicar Daughtry of Brushton, NY., Carole and Jim Raymonda of Hopkinton, NY., Suzette O'Flaherty of Rochester, NY., Jacqueline and Seth Leventhal of Sterling, VA., Sally and Brian Sydow of Sharon Springs, NY., and Lucy and James Fahy of Johnsonville, NY., one brother and sister in law, Earl and Linda Robinson of Mooers, NY., three sisters and a brother-in-law, Carolyn Stowell, Jeanne Tupia and Lois and Larry Tummons all of Westville, NY., a sister-in-law, Yvonne Wolchok of Plattsburgh, NY., seventeen grandchildren, eighteen great grandchildren and many nieces, nephews and cousins.
Along with her parents and her husband, she was predeceased by a brother, Alfred "Junior" Robinson, a son-in-law, John E. O'Flathery II., a grandson, Jason Scott Lauzon, and two brothers-in-law, Donald Stowell and Paul Tupia.
Calling hours will be Friday February 9, 2018 from 10 a.m. until Noon, at St. Mary's Church, in Fort Covington, NY. A Mass of Christian Burial will be celebrated at Noon in the Church, with the Rev. Kris Lauzon officiating. Burial will be in the old St. Mary's Cemetery, in Fort Covington, NY., in the Spring.
Donations may be made in her memory to St. Mary's Church or to the Fort Covington Volunteer Fire and Rescue Department.
Arrangements are through the Cappiello-McKenzie and Cosgrove Funeral Home, in Fort Covington, NY.
Online condolences may be made to the family at www.brusofuneralservice.com.