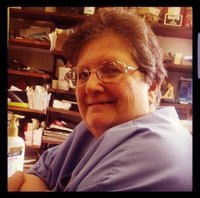 Barbara Ann Gilman
Barbara Ann Gilman, 71, of Westville, NY., passed away Saturday, February 3, 2018, at the Fletcher Allen Health Care Facility, in Burlington, VT.
Born in Rumford, Me., August 29, 1946, she was the daughter of the late George and Jennie Papasodora Virgin, Sr.
On July 3, 1966, she was united in marriage to Otis F. Gilman in Dixfield, ME. He survives.
Along with her husband, they owned and operated a farm and Gilman's Store in Westville, NY.
She enjoyed reading, crocheting and spending time with her family.
Besides her husband, Otis, she is survived by two daughters, Jennifer Gilman of Union City, NJ., and Justine Gilman of Constable, NY., two brothers and sister-in-law, George and Pamela Virgin, Jr. of Canton, ME., and Steven and Debbie Virgin of Dixfield, ME., two sisters and a brother-in-law, Veronica and Bob Penney of Soddy Daisy, TN., and Judy Brown of Rumford, ME., and a loving sister-in-law, Brenda Tracy of Berlin, NH., two grandchildren, Kerstin Gardner of Malone, NY., and Trina Gardner of Constable, NY., and one great granddaughter, Kaedance Duval of Malone, NY., and several nieces, nephews and cousins.
Along with her parents, she was predeceased by two sisters, Elizabeth Thomas and Tina Virgin.
There are no calling hours. A Reflection of Barbara's life will be held at the Westville Town Hall on Saturday, February 17, 2018, from 2-5 p.m.
Donations may be made in her memory to the American Heart or Cancer Society.
Arrangements are through the Bruso-Desnoyers Funeral Service, Inc. of Malone, NY.
Online condolences may be made to the family at www.brusofuneralservice.com.