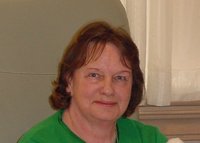 Ida Marilyn Pond Leonard
Ida Marilyn Leonard (Downer, Pond), 74, passed away peacefully on February 7, 2018, at home, in Holyoke, MA., surrounded by lots of love and family. Ida was the 19th of 20 children born to William J. and Bessie L. Marshall Downer, in Malone, NY., on March 19, 1943.
Her greatest achievements are her 5 children, 18 grandchildren, and 23 great-grandchildren - a total of forty-six people to challenge the amazing world! Ida enjoyed family gatherings, reading, country music, trips to the casino, working on the family tree, writing, bingo, sewing, playing epic games of Yahtzee, Sorry and Uno, but she took utmost joy in watching over and chasing her grandbabies. She was a very hands-on parent, grandparent, and great-grandparent and was always first in line to attend their sporting events, plays or musicals. She was known for very loudly cheering them through each and every success or trial and tribulation they faced….to Mimi her babies were never wrong! Along with caring for many others over the course of her life, she contributed to this world in many ways with love, success, and involvement. Her door was always open and everyone was always welcome in her home.
Her work history includes The Holyoke School Department, from which she retired, in addition to the Holyoke Red Cross, and Model Cities. She also dedicated her time as a warm and empathetic caregiver at The Marion Center and nursing homes in both Massachusetts and New Hampshire.
Her educational journey began in Malone, NY schools. Being one of twenty siblings meant that she did not have the luxury of graduating from high school in the traditional way, but that did not deter her from pursuing her educational goals. She worked to gain her GED and went on to study in college to provide a better life for her family and instill the value of education to those around her. She was also the only female in her family to obtain a drivers license. Religion was a big part of her life. She was baptized Methodist and was a true believer, she attended both Catholic Masses and Methodist Services.
She was predeceased by the love of her life, William A. Pond, on April 4, 2004 and also her siblings: Clifford, Herman, Michael, Ernest, Arnold, Roderick, Alfred, Maynard, Marvin, Foster, Gwendolyn, and Violet Downer, Bethal Snyder, Beaulah Putraw, Shirley Potter (Lamica), Rena Reome, Loda Lamica, Sandra Pecore, Jo Anne Phillips, her parents, and many other family members and friends who left life's journey prior to her.
She leaves to forever cherish her memory, her children: Tina Pond (Russell) of Agawam, MA, Daniel Pond (Sek) of Sarasota, FL, John Pond (Meg), Ramona Pond Blais (Steven), and Thomas Pond (Kellie) all of Holyoke, MA, as well as her grandchildren, Adam and Josh Sprague, Jennifer Herberger, Heidi Kilroy, Krystal St. George, Benjamin Bowen, Tiffany, Jacob, Brea, Mark (Jeffrey), Alex, Tessa, Madelyn and Liam Pond, Jessica Keene, Nickolis Blais, William and Lucas Hunter and great grandchildren, nieces, nephews, other family and friends, especially her brother-in-law, Everette (Red) Pecore, who spent countless hours by her side.
The family would like to thank the Bruso-Desnoyers Funeral Service, Inc. of Malone, NY and Barry J. Farrell Funeral Home of Holyoke, Massachusetts for their dedication and coordination with arrangements. Calling hours will be Saturday, February 17, 2018, from 10 a.m. until Noon, at the Bruso-Desnoyers Funeral Home, 568 East Main Street, Malone, NY 12953. A Funeral Service will be held at Noon in the funeral home chapel, with the Rev. Billy Bond officiating. Burial will be in Morningside Cemetery, in Malone, NY. in the Spring, on a date to be announced.
Online condolences may be made to the family at www.brusofuneralservice.com.