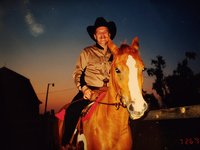 Paul A. Gratton
Paul A. Gratton, 58, of Brushton, NY., passed away unexpectedly Thursday afternoon, January 10, 2019, in Constable, NY.
Born in Malone, NY., August 4, 1960, he was the son of the late Charles L. and Elizabeth H. Spinner Gratton. He graduated from Salmon River High School, in Fort Covington, NY., in 1979.
On February 14, 1993, he was united in marriage to the former Cynthia LaMay in Bombay, NY. She predeceased him on March 17, 2009.
Many years ago Paul was employed by Tru-Stitch Footwear in Malone, NY. He later was employed by Giroux Brothers John Deere Dealership in Malone, as a Parts Manager for several years. For the past few years, he was a custodian at Salmon River Central School until the time of his death.
He was an avid horseman and showed at the local shows and fairs. He was a member of the American Paint Horse Association. He was a Franklin County 4H leader and helped cook at many of their functions. He was a communicant of St. Mary's Church, in Fort Covington. He enjoyed fishing, working with his tractor in the field and haying. He cherished the time he spent with his friends and family.
Survivors include his fiancée Sonja Roy-Quinn of Brushton, NY., one son, Steven Gratton of Watertown, NY., one daughter, Amanda Muller of Moira, NY., one stepson Dylan Quinn and his companion, Rachel Kutch of Auburn, AL., one step daughter, Michaela Quinn and her fiancée Elvin Urena of Brushton, NY., two sisters and brothers -in-law, Marie and Robert Vermette of Baldwinsville, NY., and Leona and John Wicks of Richland, NY., two sisters-in-law, Linda M. Casey Gratton, of North Bangor, NY., and Linda Gratton of Rochester, NY., three grandchildren, Alexis Dufrane, Wyatt Iby and Chase Quinn and many nieces, nephews and cousins.
Along with his parents and his wife, he was predeceased by four brothers, Ralph, John, Philip and James Gratton and one sister, Elaine Gratton.
Calling hours will be Saturday, January 19, 2019, from 11 a.m. until 1 p.m., at the Bruso-Desnoyers Funeral Home, in Malone, NY. A Funeral Service will be held at 1 p.m. in the funeral home chapel, with the Rev. Alfred Fish officiating. Burial will be in the old St. Mary's Cemetery, in Fort Covington, NY., in the Spring.
Donations may be made in his memory to the local 4H groups or to the North Bangor Volunteer Fire and Rescue Department.
Online condolences may be made to the family at www.brusofuneralservice.com.
Arrangements are through the Bruso-Desnoyers Funeral Service, Inc. in Malone, NY.