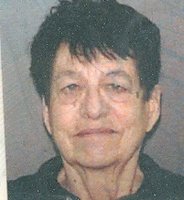 Marie C. Dufrane
Marie C. Dufrane, 84, of Fort Covington, NY., passed away Thursday afternoon, March 7, 2019, at the U.V.M. Health Care Facility, in Burlington, VT. She had been a patient there since March 2.
Born in Chateaugay, NY., April 22, 1934, she was the daughter of the late Earl and Colombe Martin Hummiston. She graduated from Chateaugay High School in 1957.
Marie worked for Tru-Stitch Footwear in Malone, NY., for several years.
She enjoyed crossword puzzles and crocheting.
On July 27, 1957, she was united in marriage to Donald J. Dufrane, Jr. at St. Patrick's Church, in Chateaugay, NY., by the late Rev. Gallagher. Her husband survives.
Along with her husband, Donald, she is survived by her mother-in-law, Dorothy Dufrane of Fort Covington, NY., one son and daughter-in-law, Henry and Laurie Dufrane of Brasher, NY., one daughter, Annette Grinne of Marsfield, PA., two grandchildren, Jered and Trudy Arbogast.
Along with her parents, she was predeceased by her step mother, Margaret Hummiston one brother, Earl "Joe" Hummiston and one step brother, Robert Hummiston.
There are no calling hours. A Graveside Service will be held in the spring on a date and time to be announced. Burial will be in the Constable Protestant Cemetery in Constable, NY.
Online condolences may be made to the family at www.brusofuneralservice.com.
Arrangements are through the Cappiello-McKenzie and Cosgrove Funeral Home in Fort Covington, NY.