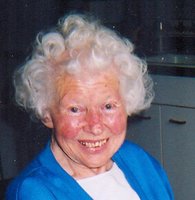 Lois Hazen Thomas
Lois Hazen Thomas, 97, of North Lawrence, NY., passed away Friday morning, April 5, 2019, at the Alice Center, in Malone, NY. She had been a resident there since April 23, 2015.
Born in Lawrenceville, NY., on May 16, 1921, she was the daughter of the late Herchell and Lillian Perrault Hazen. She graduated from Lawrenceville High School, Green Mountain Jr. College, in Vermont, with a degree in Music and Adirondack School of Commerce in Malone, NY.
She was united in marriage to Walter Thomas in November 1947. He predeceased her on July 23, 1994.
Lois was employed by ALCOA in the office and retired many years ago.
She was an active member of the Lawrenceville and Moira United Methodist Church, where she sang in the choir and played the piano for over five decades. Lois was known for her "Hymn Sings" at her home and a few public venues. She was a member of the local Grange and it's "Kitchen Band," where she shared her musical talents with others. She was a member of the local Order of the Eastern Star. She liked to cook, enjoying nature and gardening as well as watching birds visiting the ever present bird feeders at Walt and Lois's rural home and their camp on Lake Ozonia.
Survivors include one nephew, Larry Drake, four nieces, Cindy Cogan, Beverly Quenville, Cheryl Yoder and Karen Drabczyk.
Along with her parents and her husband, She was predeceased by one step brother, Lauriston Hazen, one sister, Barbara Drake and one step sister, Laura Bailey.
There are no calling hours. A Graveside Service and burial will be held on May 7, 2019 at 1 p.m., in the Hillcrest Cemetery, in Lawrenceville, NY.
Donations may be made in her memory to the Hillcrest Cemetery Association or to the Alice Ballard Fund of Hospice of the North Country, Inc.
Online condolences may be made to her family at www.brusofuneralservice.com.
Arrangements are through the Anderson Funeral Home, in North Lawrence, NY.