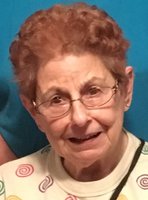 Marianne E Smythe
Marianne E. Smythe, 90, of Fort Covington, NY, passed away Thursday, April 11th 2019 at Massena Memorial Hospital in Massena, NY. where she had been a patient since April 1st.
Marianne was born August 22, 1928 in Newark Valley NY, the daughter of the late Edward Gregor and Allene Hoxie Gregor. She Attended Fort Covington High School and North Country Community College, where she received degrees in Criminal Justice and Business administration.
On June 15, 1946, she was married to Augustus J. Smythe I at St. Mary's of the Fort in Fort Covington NY. He predeceased her on August 21, 1990.
Marrianne worked as a security guard for the 1980 Winter Olympics, was a bus driver for Salmon River Central School, sold Avon, worked at Sears and the Ames Dept. Store shoe departments in Saranac Lake and Plattsburgh. She finished her working career at Cerebral Palsy as a home health aide, retiring in 2006.
She is survived by four sons, Augustus Smythe II of Fort Covington, Michael Smythe of Constable, Gregory and Kathy Smythe of Fort Covington and Geoffrey and Jane Smythe of Massena, NY; three daughters, Cheryl and Richard Lester of Constable, Pamela Coats of Paul Smiths NY, and Sheila Smythe of Fort Covington; her brother Edward and Marilyn Gregor of Rochester NY and a sister Phyllis and Roger Theriault of Nashua NH.
Marrianne also had 11 grandchildren, 18 great-grand children, 1 great-great grandchild and several nieces and nephews.
Besides her parents and husband, she was pre deceased by two sisters, Norma Inslee and Shirley Gregor, and a grand daughter Christina Frank.
She was a past member of the Altar and Rosary Society and the Salmon River Adult Rifle and Pistol Club, where she won many trophy's shooting with her daughters. Marianne enjoyed reading, watching old television shows, cats and collecting figurines.
Calling Hours will be held at Cappiello-McKenzie and Cosgrove Funeral Home in Fort Covington, NY on Monday, April 22nd 2019 from 10a.m to noon, with a Mass of Christian Burial held at St. Mary's of the Fort Catholic Church at 12:30pm
Burial will take place at New St. Mary's Cemetery in the spring.
Donations in Marianne's memory can be made to the Fort Covington E.M.S.
Online condolences can be shared by visiting www.brusofuneralservice.com
Arrangements are in the care of the Cappiello-McKenzie and Cosgrove Funeral Home in Fort Covington, NY