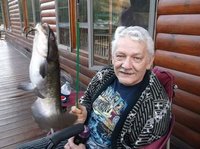 Peter D Putraw
Peter D. Putraw, 59, of Lower Park Street Malone, NY passed away on Friday, April 12th 2019 at U.V.M. Health Network; Alice Hyde Medical Center in Malone, NY.
Born in Malone, he was the son of the late George Putraw and Beaulah (Downer) Putraw.. He attended Malone schools and was employed at Tru-Stitch Moccasin Factory in Malone until he became ill.
On August 3rd, 1985, he was married to the former Jacqueline Lamica in Malone. She survives.
Along with his wife, Peter is survived by his daughters, Tracy and Hubert Rocheleau of Quebec, Canada; Karey Fournier and Robert Mulverhill, Sr. of Malone; Jodi and Richard Andrews of Malone; his brother, George and Donna Putraw of Malone, two sisters, Ida and Peter Pritchard and Georgia Putraw both of Malone. Peter also leaves behind his grandchildren Jussenia, Nathen, Marissa, Jered, Candace, Guillaume, Ciera, Robert, Jr., and Brittnie, his great grand children Chloe, Braden, Morgan, Brooke, Alexis, Serenity, Allessandra and Lilah and several nieces and nephews and many friends.
Besides his parents, he was predeceased by his step father Austin Bashaw; two sisters, Gloria Rousseau-Lamica and Rose Marie Putraw; and a nephew Peter Pritchard III.
His passion and favorite past time was fishing.
There are no calling hours. Services will be held at the family home on Lower Park Street at the convenience of the family.
The family sends a special thank you to Jeremy and Carla Bell and Nate Coates.
Donations may be made to Community Connections of Franklin County.
Online condolences may be made to his family at www.brusofuneralservice.com
Arrangements are through the Bruso-Desnoyers Funeral Service, Inc. in Malone, NY.