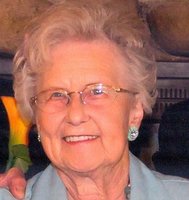 Eileen R. Trippany
Eileen R. Trippany, 91, of Malone, NY., passed away unexpectedly Saturday morning, April 27, 2019, at her home.
Born in Malone, NY., July 29, 1927, she was the daughter of the late William and Madge Thomas Johnson. She attended local schools.
Eileen was a bus driver for Malone Central Schools for twenty two years. She retired in 1989.
She was a communicant of St. Joseph's Church and a life member of the St. Joseph's Altar Rosary Society and the Malone Catholic Daughters. She enjoyed cooking, gardening, crocheting, knitting and travel. She cherished her time spent with family and friends.
On September 14, 1946, she was united in marriage to Lyle B. Trippany at St. Joseph's Church, in Malone, by the late Rev. O'Neil. Lyle predeceased her on June 14, 2013.
Survivors include two sons and daughters-in-law, Brian and Shelly Trippany of Westville, NY., and Craig and Ann Trippany of Byron, NY., two daughters and a son-in-law, Karen Ryan of Bemidji, MN., and Brenda and John Zavaski of Baldwinsville, NY., nine grandchildren, fifteen great grandchildren and many nieces, nephews and cousins.
Along with her husband, Lyle, she was predeceased by one brother, Harold Johnson, two sisters, Ethel Connors and Frances Johnson and a son-in-law, Patrick Ryan.
Calling hours will be Tuesday from 10 until 11:30 a.m. at the Bruso-Desnoyers Funeral Home, in Malone, NY. A Mass of Christian Burial will be celebrated Tuesday at Noon at Notre Dame Church, in Malone, NY. Burial will be in St. Joseph's Cemetery on the Lake Titus Road, in Malone, NY., on Thursday at 11 a.m.
Donations may be made in her memory to the Malone Volunteer Fire Department and E.M.S.
Online condolences may be made to her family at www.brusofuneralservice.com.
Arrangements are through the Bruso-Desnoyers Funeral Service, Inc. in Malone, NY.