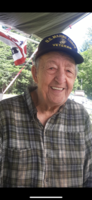 Maurice A. French
Maurice A. French, 88, of Brandon, NY., passed away unexpectedly Monday, September 2, 2019, at his home.
Born in Brandon, NY., August 1, 1931, he was the son of the late Elwin and Ruth Fountain French, Sr. He attended local schools.
He served in the United States Marine Corp during the Korean War from 1952 until his Honorable Discharge in 1954.
Maurice operated a milk hauling business for many years, and was a heavy equipment operator for the Town of Brandon. He later was employed by the New York State Conservation Department for twenty eight years and retired in 1994.
He was a member of the Marine Corp League and the Brushton-Moira American Legion. He enjoyed working on his hobby farm, hunting, reading and antique tractors.
He was united in marriage to the former Josephine "Dee" Tucker in St. Regis Falls, NY. She survives and they enjoyed more than sixty years together..
Along with his wife, Dee, he is survived by three sons and daughters-in-law, Randy and Susan French of Brandon, Lawrence Stevens of Austria, and David Stevens and his companion, Desiree Charleston of Ogdensburg, NY., Judy Stevens of Malone, NY., one daughter and son-in-law, Linda and Bryce Mussaw of Lewisburg, TN., one brother, Lloyd French of Brandon, NY., one sister, Joan Phillips of Brandon, NY., one brother-in-law, Bruce Gonia of Brandon, NY., one sister-in-law, Nancy French of Brandon, NY., fifteen grandchildren, thirty eight great grandchildren, four great great grandchildren and many nieces, nephews and cousins.
Besides his parents, he was predeceased by three brothers and two sisters-in-law, Robert and Nancy French, William French, and Arnold and Betty French, two sisters, Maxine Isner and Bonita Gonia, and one grandson, Mark Edwards, two great granddaughters, Abigail and Adrianna Patterson.
Calling hours will be Thursday from 6-8 p.m., at the Bruso-Desnoyers Funeral Home, in Malone, NY. A Funeral Service will be held Friday at 11 a.m. in the funeral home chapel with the Rev. Juanita Brooks officiating. Burial will be in the Stevens Cemetery in Brandon, NY., with full Military Honors provided by the Brushton-Moira American Legion.
Donations may be made in his memory to the Brandon Food Pantry or to the Brushton Meals on Wheels Program.
Online condolences may be made to the family at www.brusofuneralservice.com.
Arrangements are through the Bruso-Desnoyers Funeral Service, Inc. in Malone, NY.