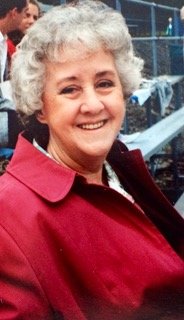 Obituary of Margaret McManus
Margaret A. McManus, 83, of Malone, NY., passed away Sunday afternoon, December 17, 2017, at the U.V.M. Health Network The Alice Center, in Malone, NY. She had been a resident there since October 4.
Born in North Bangor, NY., January 2, 1934, she was the daughter of the late Kenneth and Blanche LaRue Fleury. She graduated from local schools.
On October 10, 1952, she was united in marriage to Robert G. McManus, at St. Augustine's Church, in North Bangor, NY., by the late Rev. Kellogg. Her husband predeceased her on May 26, 1999.
Margaret assisted her husband with the daily operation of their family farm in Westville, NY., for more than thirty years. She was later employed at the Dress Factory, Tru-Stitch Footwear, Val Haven Adult Home and lastly a nurses aid at the Alice Hyde Nursing Home, all in Malone, NY. She retired several years ago.
She was a communicant of our Lady of Fatima Church, in Westville, NY. She enjoyed oil painting, and sketching. She had a large book of dream home designs that she had sketched over the years. She was a talented musician, playing the fiddle, guitar and piano all by ear. Margaret loved nature and the outdoors. She enjoyed working in her garden, feeding her large group of hummingbirds and going for long motorcycle rides with her husband.
Survivors include one son and daughter in law, Sean and Bonnie McManus of Burke, NY., two daughters and a son-in-law, Eileen Wutz of Buffalo, NY., and Sheila and Victor Cecchi of Boston, MA., two sisters, Betty LaVance of Walla Walla, WA., and Beatrice Lamica of Malone, NY., five grandchildren, five great grandchildren and several nieces and nephews.
Along with her parents and husband, she was predeceased by one brother, Leon Fleury.
There are no calling hours. A Funeral Service will be held Thursday at 10 a.m. in the Bruso-Desnoyers Funeral Home Chapel, in Malone, NY., with the Rev. Thomas Kornmeyer officiating. Burial will be in the Coal Hill Cemetery, in Westville, NY.
Donations may be made in her memory to Westville Volunteer Fire and Rescue Department.
Arrangements are through the Bruso-Desnoyers Funeral Service, Inc. of Malone, NY.
Online condolences may be made to the family at www.brusofuneralservice.com.