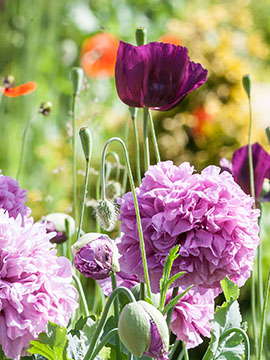 Obituary of Mary Ellen Maguire
Mary Ellen Maguire, age 78, of Malone, NY., passed away unexpectedly on Tuesday, April 10, 2018, at her home with her loving family by her side.
Born in Manhattan, New York City, on May 14, 1939, she was the daughter of the late Peter and Nora Crohan Ballesty. She attended Plattsburgh State University and obtained her Nursing Degree and BS in Education on June 16, 1961.
On August 26, 1961, she was united in marriage to Albert J. "Mike" Maguire at St. Francis of Assisi Church in Mount Kisco, NY. He predeceased her on January 31, 2014.
Mary Ellen was employed as a School Nurse-Health Teacher for the Malone Central School District. She retired in 1994 from Franklin Academy High School in Malone, NY.
She was a member of the Alice Hyde Hospital Auxiliary, New York State Teachers Association and the Malone Federation of Teachers. She enjoyed gardening, reading, knitting and cooking. Her happiest and most memorable times were spent being with her husband, children and grandchildren. Mary Ellen and Mike's home was always open for anyone to stop by and visit.
Survivors include two sons and daughters in law, Mick and Sheila Maguire of Potsdam, NY., and Terrence and Stacey Maguire of Malone, NY., one daughter and son in law, Reenie and Mark Perry of North Bangor, NY., and by one brother and sister in law, Peter and Dianne Ballesty of Congers, NY. She is also survived by four granddaughters, Mallorie Murphy, Kaila, Kaycee, and Murphy Maguire.
Besides her parents and husband she was predeceased by a son in law, Richard Bower.
There are no calling hours. A Mass of Christian Burial will be celebrated on Thursday, April 19, 2018, at 11 a.m., at St. Augustine's Church in North Bangor, NY., with Fr. Raymond Moreau officiating. Burial will be on Monday, April 30, 2018, at 9 a.m. in St. Joseph's Cemetery on State Route 30S., in Malone, NY.
Donations may be made in her memory to the Malone EMS.
Arrangements are through the Bruso-Desnoyers Funeral Service Inc. of Malone, NY.
Online condolences may be made to the family at www.brusofuneralservice.com.