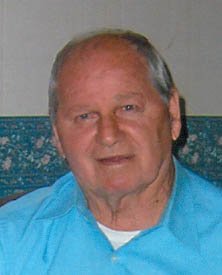 Obituary of Lerald Gene Paige
Lerald G. Paige, of Malone, NY., passed away late Sunday night, October 28, 2018, at his home, while under the loving care of his family and Hospice of the North Country, Inc.
Born in Canton, NY., on July 25, 1928, he was the son of the late Leland and Avis LaTrace Paige
He served in the United States Army from November 1950 until his Honorable Discharge in November 1952.
On February 25, 1955, he was united in marriage to the former Carmelita Degon in Brasher Falls, NY., She predeceased him on October 26, 2012.
Lerald was employed by ALCOA in Massena for many years. He retired in 1979.
He enjoyed hunting, cutting wood, playing the guitar and family gatherings.
Survivors include three sons and two daughters-in-law, Terry and Tracy Paige of Malone, NY., Larry and Kim Paige of Trout River, NY., and Carter Paige of Plattsburgh, NY., four daughters and one son in law, Debra and Douglas Brady of Westville, NY., Tracey Soulia of Malone, NY., Candace Allen of North Bangor, NY., and Darcy Paige of Bellmont, NY., two sisters and a brother-in-law, Thelma Baker of Rome, NY., and Virginia and Larry Brown of Massena, NY., sixteen grandchildren, twenty-four great grandchildren and many nieces, nephews and cousins.
Along with his parents and his wife, he was predeceased by two brothers, Clifford and Leland Paige, three sisters, Doris Spangenburg, Lorraine Shantie and Greta Holland.
There are no calling hours. A Graveside Service and burial with full Military Rites provided by the Malone American Legion will be held on Friday at 11 a.m. at St. John Bosco Cemetery, in Malone, NY.
Donations may be made in his memory to the Alice Ballard Fund of Hospice of the North Country, Inc. in Malone, NY.
Online condolences may be made to the family at www.brusofuneralservice.com.
Arrangements are through the Bruso-Desnoyers Funeral Service, Inc. in Malone, NY