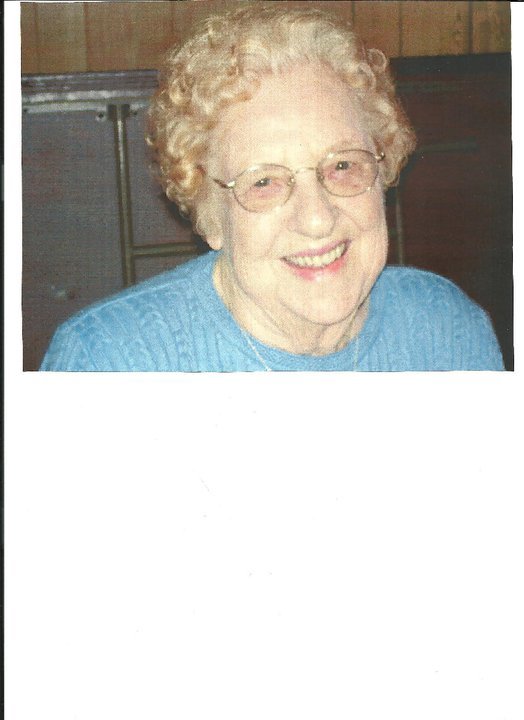 Obituary of Marion Ghostlaw
Marion M. Ghostlaw, 98, of Massena, NY., and formerly of Fort Covington, NY., passed away early Saturday morning, November 17, 2018, at the Massena Memorial Hospital, in Massena, NY., with her loving family by her side. She had been a patient there since November 9.
Born in Fort Covington, NY., August 23, 1920, she was the daughter of the late Herbert and Emma Dineen McElwain. She graduated from Fort Covington High School in 1939.
On September 16, 1939, she was united in marriage to William Kenneth Ghostlaw at St. Joseph's Church, in Bombay, NY., by the late Rev. Bernier. Her husband predeceased her on January 26, 2001.
Marion was a homemaker. She was a communicant of Sacred Heart Church, in Massena, NY., and a former communicant and Altar Rosary Society member of St. Patrick's Church, in Hogansburg, NY. She was a member of the Fort Covington Grange for more than twenty nine years, and a past secretary. She was an avid New York Ranger fan, enjoyed watching soap operas, and the Daily Mass on television. Her favorite times were gatherings with her friends and family.
Survivors include two sons, Kenneth J. Ghostlaw and his companion Mary Fuller of Massena, NY., and Kevin J. Ghostlaw of Heuvelton, NY., one daughter, Leona Ghostlaw of Massena, NY., one brother and sister-in-law, Kenneth and Audrey McElwain of Bombay, NY., four grandchildren, eight great grandchildren, six great great grandchildren and many nieces, nephews and cousins.
Along with her parents and her husband, she was predeceased by two daughters, Vivian Hamelin and Evelyn McKenzie, four brothers, Errol F. McElwain, Sr., and Walter, Wayne and James McElwain, and two sisters, Helen Pelkey and Dorothy Kitts.
Calling hours will be Friday from 11 a.m. until Noon at Sacred Heart Church, in Massena, NY. A Mass of Christian Burial will be held in the Sacred Heart Church at Noon. Burial will be in the old St. Mary's Cemetery, in Fort Covington, NY., in the Spring.
Donations may be made in her memory to the Massena Volunteer Rescue Squad.
Online condolences may be made to the family at www.brusofuneralservice.com.
Arrangements are through the Cappiello-McKenzie and Cosgrove Funeral Home, in Fort Covington, NY.