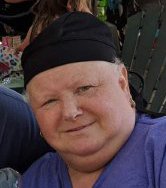 Obituary of Connie Jeror
Connie F. Jeror, 58, of Malone, NY., passed away early Wednesday morning, November 21, 2018, at her home, while under the loving care of her family and Hospice of the North Country, Inc.
Born in Malone, NY., December 9, 1959, she was the daughter of the late Carlton and Shirley Downer Lamica.
On July 8, 1978, she was united in marriage to Craig H. Jeror, in Malone, NY. He survives.
Connie was employed by Franklin County for more than thirty three years. She retired in 2017.
Her family was her life. She loved family gatherings and being surrounded by her grandchildren. She also enjoyed going to the casino.
Along with her husband, Craig, she is survived by one son, and daughter-in-law, Don and Billiejo Jeror of Malone, NY., one daughter and son-in-law, Bobbie Jo and Eric Avery of Burke, NY., five brothers and one sister-in-law, Bobby, James, and Gerald Lamica all of Malone, NY., Dean and Melissa Lamica of Malone, NY., and John Lamica and his companion Michelle Jeror of Burke, NY., two sisters and a brother-in-law, Helen Phillips of Constable, NY., and Sherry and Roberto Chavez of Malone, NY., eight grandchildren, Chance and Cayden Stansbury, Dylan, Desiree and Annaliese Jeror, and Lateasha, Alexis and Mackenzie Avery, three great grandchildren, Brantley and Brexton Foster and Elliot Recore, and many nieces, nephews and cousins.
Besides her parents, she was predeceased by two brothers, Carlton Lamica, Jr. and Brian Lamica.
Calling hours will be Monday from Noon until 2 p.m. at the Bruso-Desnoyers Funeral Home, in Malone, NY. A Funeral Service will be held at 2 p.m. in the funeral home chapel with the Rev. Alfred Fish officiating.
Donations may be made in her memory to the Alice Ballard Fund of Hospice of the North Country, Inc., in Malone, NY.
Online condolences may be made to her family at www.brusofuneralservice.com.
Arrangements are through the Bruso-Desnoyers Funeral Service, Inc. in Malone, NY.