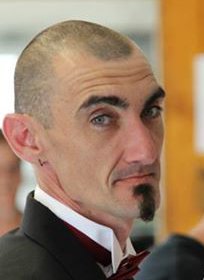 Obituary of Andy J. Abare
Andy J. Abare, 37, of North Bangor, NY., passed away Sunday evening, December 23, 2018, at his home.
Born in Malone, NY., October 26, 1981, he was the son of Steven Baker and Tina Abare. He attended local schools.
Andy was a self employed contractor. He enjoyed hunting, fishing, playing pool and building anything the imagination could dream up. His most cherished times were spent with his family especially his children.
On August 7, 2012, he was united in marriage to the former Meagan Reyell in Malone, NY. She survives.
Along with his wife, Meagan, he is survived by his mother and stepfather, Tina and Ricky Jock of North Bangor, NY., his stepmother, Donna Baker of North Bangor, NY., five sons, Morgan Abare, Kyle Hence, Ethan Abare, and Kolby and Kayden Reyell, two daughters, Anna and Myia Abare, two brothers, Ronald Robideau of Malone, NY., and Steven Baker of North Bangor, NY. two sisters and a brother-in-law, Lori and Bruce Dumas, Jr. of Mountain View, NY., and Jesse Baker of Burke, NY., and several aunts, uncles, nieces, nephews and cousins.
He was predeceased by his father Steven Baker and one sister, Shannon Jock Lohn.
Calling hours will be Monday from 10-11 a.m. at the Bruso-Desnoyers Funeral Home in Malone, NY. A Funeral Service will be held at 11 a.m. in the funeral home chapel.
Donations may be made in his name to the Cerebral Palsy Foundation.
Online condolences may be made to the family at www.brusofuneralservice.com.
Arrangements are through the Bruso-Desnoyers Funeral Service, Inc. of Malone, NY.