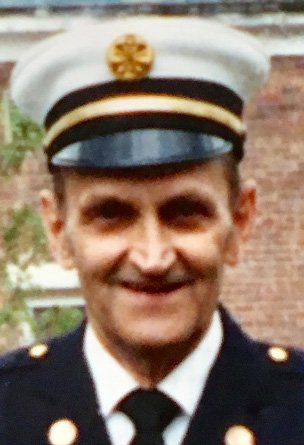 Obituary of Elton W. Cappiello
Elton W. "Cappy" Cappiello, 92, of Fort Covington, NY., passed away unexpectedly
Wednesday night, December 26, 2018, at his home.
Born in Fort Covington, NY., August 7, 1926, he was the son of the late Andrew and Mildred
Brockway Cappiello. He graduated from Fort Covington High School.
Elton proudly served in the United States Navy from 1944 until his Honorable Discharge in
May 1946. While in the Navy, he served in the Pacific Theater as a Motor Machinist Mate 2nd Class
and received the Naval Unit Citation with one star and also three Battle Stars.
On November 23, 1950, he was united in marriage to the former Beverly Sharlow at St. Mary's
Church, in Fort Covington, NY., with Msgr. Edmund Dumas officiating. She survives.
Many years ago, Elton was employed by ALCOA in Massena, NY. He later worked as a
service technician for Sears for twenty seven years. He also served as Water
Superintendent in Fort Covington, for many years.
He served as a Deputy Fire Coordinator for Franklin County in the 1960's until his appointment as the
Franklin County Fire Coordinator on January 1, 1969, a position he held until his retirement in 2001.
"Cappy" devoted his life to the fire department and his community. He was a communicant of
St. Mary's Church and served as an usher. He was a member of the Fort Covington K of C, the
Fort Covington American Legion and V.F.W. He joined the Fort Covington Fire Department at
the age of fifteen and was a member for more than seventy five years. When his father retired as
Chief, he was elected as the new Chief. He was a member and Past President of the N.Y.S. Association
of Fire Chiefs, a member and Past President of the N.Y.S. Fire Coordinator's Association, a member of
the N.Y.S. Volunteer Firefighters Association and was a N.Y.S. Fire Instructor. He served as a regional Fire
Administration for the Federal Government. "Cappy" was instrumental with the formation of
the Duane and Paul Smith's Volunteer Fire Departments. He headed the Southeastern Quebec
Mutual Aid Agreement with N.Y.S., and the implementation of the Quebec Communication
System. On September 10, 2004, the 911 Dispatch Center, in Malone, NY was dedicated as the Elton
"Cappy" Cappiello Dispatch Center.
Along with his wife, Beverly, he is survived by two sons and daughters-in-law, Kevin and Wendy
Cappiello of Malone, NY., and Andre and Loretta Cappiello of Morrisonville, NY.,
three daughters and sons-in-law, Lynn and Fred Fritz of Fort Covington, NY., Jill and Rick
Tremblay of Massena, NY., and Terri and Fred Brush of Massena, NY., extended family,
Lyndon Hutchings of Souris, Manitoba, Canada, Mark Peets of Fort Covington, NY., and Lyle Prairie of
Pittsford, NY., ten grandchildren, Kendra Miller and her husband Ryan, Nicholas Cappiello and
his wife, Ashley, Christopher Fritz, Emily Fritz, Erinn Currier and her husband, Dustin, Erica
Tremblay and her husband, Zachary, Justin Tremblay and his wife, Nickola, Juliana Brush,
Andrew Brush and Gianna Cappiello, six great grandchildren, Isabella Miller, Warren Miller,
Harper Cappiello, Miles Cappiello, Carter Currier, and Aurora Tremblay, one sister-in-law, Mary Lou
Bashaw six nieces, Debbora Keeler, Martha Armstrong Ritchie, Airlie Green, Wendy (Green) Basel, Cyndi
Hanley, and Lisa Cartier, and three nephews, Winston Armstrong, Kim Bashaw and Todd Bashaw and
many cousins
Besides his parents, he was predeceased by one brother, Bruce Cappiello and three sisters and their
husbands, Olita (Fred) Armstrong, Noreen (Paul) Green and Dorothy (Richard) Keeler and one brother-
in-law Napoleon Bashaw.
Calling hours will be Friday January 4th from 4-7 p.m. at the Cappiello-McKenzie and Cosgrove Funeral
Home, in Fort Covington, NY. A Mass of Christian Burial will be celebrated Saturday January 5th at 11
a.m.at St. Mary's Church, in Fort Covington, with the Rev. Martin Cline officiating. Burial will be in the
old St. Mary's Cemetery, in Fort Covington.
At the request of the family, in lieu of flowers, donations may be made in his memory to the Fort
Covington Volunteer Fire Department or to Fort Covington E.M.S., Inc.
Online condolences may be made to the family at www.brusofuneralservice.com.
Arrangements are through the Cappiello-McKenzie and Cosgrove Funeral Home in Fort
Covington, NY.