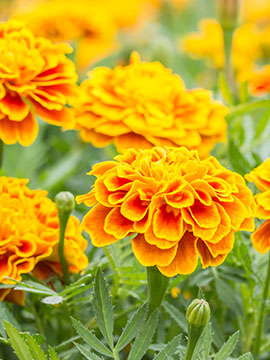 Obituary of Mary P. Rolley
Mary P. Rolley, 82, of Malone, NY, departed from this life on Monday, January 14, 2019, at her home, while under the loving care of her son Carter Barrett and Hospice of the North Country, Inc.
Born in Constable, NY, May 15, 1936, she was the daughter of the late Ascenzo James and Maria Cecili Pelliccione who were immigrants from Italy. She was always very proud of her heritage and had great admiration for her parents. She attended schools in Constable and Malone, NY.
For nineteen years, Mary worked as a legal secretary for attorneys Cornelius Carey, Thomas LaRocque and John Piasecki. Thereafter, she worked as a stenographer for the Village of Malone Housing Authority, for twenty years, when she retired.
Mary was married to Kenneth Barrett, in 1954. The marriage was dissolved by an amicable divorce in 1978. She later married William D. Jones on July 11, 1981 in Syracuse, NY. He predeceased her in 1993. On July 16, 1999, she married Donald Rolley, in Malone. He predeceased her on January 26, 2010.
She was a communicant of St. Joseph's Church, in Malone and a member of the church choir. She was a Honorary Life Member of the Ladies of the Elks, a member of the American Legion Auxiliary and a volunteer of the Emmanus Soup Kitchen, which she immensely enjoyed. She was also an avid reader.
Survivors include her loving son and daughter-in-law, Carter P. and Linda P. Barrett of Springfield, VA., and their son Christopher, stepchildren, Terrance W. Jones; Starr Early, Dana, Mark and Donald Rolley, Jr., step grandchildren and several nieces, nephews and cousins.
Along with her parents and her husbands, she was predeceased by four brothers, Andrew, Vincent, Louis and John Pelliccione and three sisters, Anne Zeumer, Licia Rausch and Evelyn Gill.
Calling hours will be Monday, January 28, 2019, from 3-4 p.m. at the Bruso-Desnoyers Funeral Home, in Malone, NY. A Funeral Service will be held at 4 p.m. in the funeral home chapel. Burial will be in Notre Dame Cemetery, in Malone, in the Spring.
Donations may be made in her memory to the Franklin County 911, in Malone, NY.
Online condolences may be made to her family at www.brusofuneralservice.com.
Arrangements are through the Bruso-Desnoyers Funeral Service, Inc. in Malone, NY.