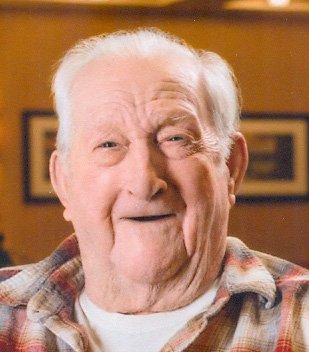 Obituary of Lawrence A. Sovay
Lawrence A. "Larry" Sovay, 91, of Fort Covington, NY., passed away early Sunday morning, April 28, 2019, at the Meadowbrook Nursing Home, in Plattsburgh, NY. He had been a resident there since December 23, 2014.
Born in St. Regis Falls, NY., October 4, 1927, he was the son of the late Lawrence W. and Lillian Tuper Sovay. He graduated from the University of Deleware.
He served in the United States Army, stationed in Germany from 1944 until his Honorable Discharge in 1947.
From 1948 until 1961, Larry was a salesman for A&P in Malone and as a clerk in Schenectady, NY. From 1961 until 1963, he was co-owner of Family Market with Albert Leger in Fort Covington, NY. From 1963 until 1967, he was a meat cutter at Fish's IGA in Fort Covington. From 1967 until 1969, he was an agent for Prudential Insurance Co. From 1969 until 1984, he was a car salesman for Brewer Ford and from 1984 until 1989 for Ellis Ford in Fort Covington. He later worked for several years for Experience Works, "Green Thumb Program" as a field operations assistant in Franklin County.
He enjoyed woodworking, reading and gardening.
On November 10, 1948, he was united in marriage to the former Beatrice M. Gardner at St. Mary's Church in Fort Covington, NY. She predeceased him on November 16, 2014.
Survivors include one son and daughter-in-law, Gary and Debra Sovay of Dannemora, NY., and one daughter, Linda Daunais of Redford, NY., eight grandchildren, nine great grandchildren and several nieces and nephews.
Along with his parents and his wife, he was predeceased by one sister, Oleta Roca.
Calling hours will be Monday, May 6, 2019, from 11 a.m. until Noon, at the Cappiello-McKenzie and Cosgrove Funeral Home, in Fort Covington, NY. A Funeral Service will be held at Noon in the Funeral Home Chapel, with the Rev. Thomas Kornmeyer officiating.
Burial will be in the old St. Mary's Cemetery, in Fort Covington, NY.
Donations may be made in his memory to the Fort Covington Volunteer Fire Department and E.M.S.
Online condolences may be made to the family at www.brusofuneralservice.com.
Arrangements are through the Cappiello-McKenzie and Cosgrove Funeral Home, in Fort Covington, NY.
To send flowers to the family of Lawrence Sovay, please visit Tribute Store