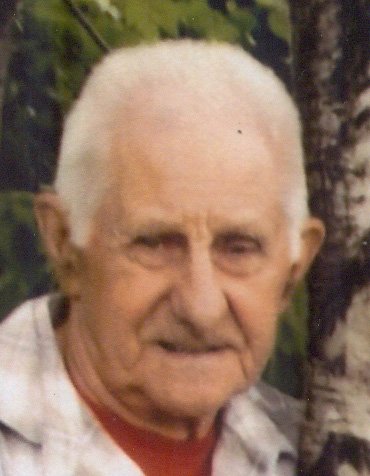 Obituary of Edward J. Cartier, Jr.
Edward J. Cartier, Jr., 85, of Bombay, NY., passed away unexpectedly, Saturday, May 11, 2019, at the U.V.M. Health Network Alice Hyde Medical Center, in Malone, NY.
Born in Fort Covington, NY., September 6, 1933, he was the son of the late Edward and Alphonsine Hart Cartier, Sr. He attended local schools.
He was a heavy equipment operator for the Town of Bombay for more than twenty seven years. He retired in 1995.
Ed enjoyed puttering in his garage, crafting many things out of wood and metal, including a trailer and lawn mower. His favorite times were spent with friends and family especially his grand and great grandchildren. He loved to tell stories.
On March 17, 1968, he was united in marriage to the former Laura M. French in Bombay, NY. She survives.
Along with his wife, Laura, he is survived by one son and daughter-in-law, Mark and Joelle Cartier of Gouverneur, NY., two daughters and sons-in-law, Christina and Bernard Charlebois of Bombay, NY., and Carrie and Leonard Oakes, Jr. of Moira, NY., one half brother and his wife, Raymond and Patricia Cartier of Fort Covington, NY., seven grandchildren, Hope Schrader-Bogett, Tyler Charlebois, Jenna Oakes, Tyra Cartier, and Tayler, Savanna and McKenna Oakes, six great grandchildren, Noah Schrader, Micah Bogett, Kaleb and Payton Charlebois, Greyson Oakes, Kelsie Campbell and many nieces, nephews and cousins.
Besides his parents, he was predeceased by one son, Scott Cartier of May 20, 1995, one brother, John Cartier, one half brother, Maurice Cartier, and three sisters, Marjorie Jock, Janet Bigness and Yvonne Lunan.
Calling hours will be Wednesday from 9 until 11 a.m., at the Cappiello-McKenzie and Cosgrove Funeral Home, in Fort Covington, NY. A Funeral Service will be held at 11 a.m. in the funeral home chapel, with the Rev. Thomas Kornmeyer officiating.
Donations may be made in his memory to the Bombay Volunteer Fire Department or to the Bombay E.M.S.,Inc.
Online condolences may be made to the family at www.brusofuneralservice.com.
Arrangements are through the Cappiello-McKenzie and Cosgrove Funeral Home in Fort Covington, NY.