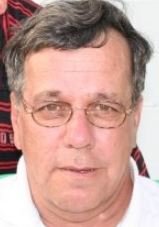 Obituary of David M. Laraby
David M. Laraby, 66, of Massena, NY., and formerly of Malone, NY., passed away Monday evening, June 24, 2019, at the Claxton-Hepburn Hospital, in Ogdensburg, NY.
Born in Malone, NY., September 11, 1952, he was the son of the late Maurice and Bernice Barney Laraby. He graduated from Lake Placid High School.
David was a roofer by trade and loved spending time with his family and friends. He was very proud of all the children in his family. He loved to laugh, reminisce and entertain everyone with stories of his youthful shenanigans and playing intense games of Yahtzee
Survivors include his stepmother, Joanne Ward of Malone, NY., one stepson, Michael Rousseau of Malone, NY, one stepdaughter, Nancy Richards and her husband, Gordon of Canton, NY., one brother and sister-in-law, Maurice and Nealonni Laraby of Moira, NY; four sisters and two brothers-in-law, Lou Ann and Arthur LaJeunesse of Cohoes, NY., Denise Rowe of Camden, S.C., Paula Demaro of Mesa AZ, and Lisa and Bruce Cudd of Marion, OH., and several nieces, nephews and cousins.
Along with his parents, he was predeceased by the love of his life, Frieda Dissottle.
Calling hours will be Friday, July 12, 2019, from 11 until 1 p.m. at the Bruso-Desnoyers Funeral Home, in Malone, NY. A Funeral Service will be held at 1 pm., in the funeral home chapel. Burial will be in Notre Dame Cemetery, in Malone, NY.
Donations may be made in his memory to the American Lung Association.
Online condolences may be made to the family at www.brusofuneralservice.com.
Arrangements are through the Bruso-Desnoyers Funeral Service, Inc. in Malone, NY.