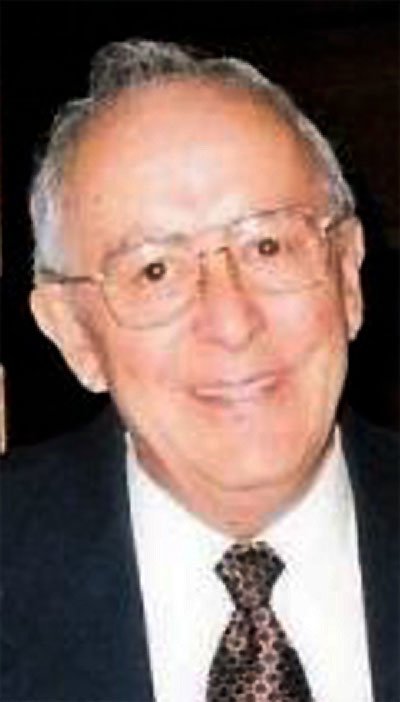 Obituary of R. Lloyd Richey
After bravely battling cancer for many years, R. Lloyd Richey, has reunited with our Lord on Monday, October 28, 2019. He had been a resident of The Alice Center for the past two months and was under the care of Hospice of the North Country. He had resided at 11 Highland Avenue, Malone for the past 57 years.
Born May 14, 1928 to Napoleon (Paul) Richey and Cora (LaClair) Richey he attended Chateaugay schools. He served four years in the U.S. Army, serving two of those years in Germany, and was honorably discharged in 1952. Lloyd was married to the former Thelma Degon on June 9, 1951; she predeceased him on December 13, 2007.
Lloyd's career was primarily in sales, culminating in owning Richey's Furniture and Appliance Sales throughout most of the 1970's, but due to health problems, he was forced to close the business. In the 1980's he volunteered for the Food Commodity Distribution Program; then for three years, beginning in 1990, Lloyd worked through the VISTA Program helping to establish the Cooperative Gleaning Project in Franklin County. He then began full-time employment with the Community Action Agency of Franklin County as the Cooperative Gleaning Project Coordinator.
Lloyd began to do what he did best, make friends and "sell" the gleaning idea. Area farmers were the first to donate their produce and got the project "on its feet." And, New York State Department of Corrections began growing gardens for the Gleaning Project. The program went from feeding Franklin County residents to distributing goods throughout New York State. He also helped develop cooperative programs for several other states and the Rotary of Canada and acted as consultant throughout their initial months.
In later years Lloyd "gleaned" articles other than food. He has sent tractor-trailer loads of products all over the country to replenish food banks or assist in disasters. Yet, his special delight was to bring those tractor-trailers to Malone, loaded with everything from furniture to candy. The R. Lloyd Richey Gleaning Warehouse on the Creighton Road in Malone was the necessary result of this work.
Lloyd was a Eucharistic Minister and Lector at the former St. Joseph's Parish in Malone. He was a staple at the 9:15 mass and served at nearly every funeral service held at the church throughout the course of twenty years. Lloyd also served on the boards of the Malone Housing Authority, Malone Golden Age Club and the Retired Senior Volunteer Program (RSVP).
His enthusiasm, integrity, work ethic and especially that sense of humor, which has provided all us with laughter will be missed. He will be forever in the hearts of those who survive, his daughter and son-in-law, Pamela and Gregory Steenberge of Malone; two grandsons and granddaughter-in-law, Jared Steenberge of Lake Placid and Jamie and Jennifer Steenberge of Plattsburgh; his cherished great-grandchildren, Ethan and Hannah Steenberge of Plattsburgh; his nieces and nephews, Gail (Richard) Wood, Gary (Terri) Richey, Patricia Degon-Piscopo, Gloria Richey, James Brown, Mary Anne (Christopher) Cordes and Christopher (Lori) Degon. and his treasured Highland Avenue family.
Besides his parents and wife, he was predeceased by his brother and sister-in-law, E. Joseph (Evelyn) Richey; his brothers- and sisters-in law, Nelson (Rita) Degon, Earl (Rosalyn) Degon and Fabian (Reba) Degon; his nephew and nieces, Mark and Amy Degon, Charles Piscopo and Martha Brown; and several cousins.
A Mass of Christian Burial will be celebrated at 10:30 AM at St. John Bosco Church, Monday, November 4, 2019. Family will be at the church at 9:30 AM to welcome friends. Donations may be made in Lloyd's memory to Alice Ballard Fund of Hospice of the North Country, Inc
Online condolences may be made to the family at www.brusofuneralservice.com.
Arrangements are through the Bruso-Desnoyers Funeral Service, Inc. in Malone
To send flowers to the family or plant a tree in memory of R. Richey, please visit Tribute Store
Calling Hours
9:30 am - 10:25 am
Monday, November 4, 2019
St. John Bosco Church
Rennie Street
Malone, New York, United States
518-483-1300
Calling Hours
Mass of Christian Burial
10:30 am - 11:30 am
Monday, November 4, 2019
St. John Bosco Church
Rennie Street
Malone, New York, United States
518-483-1300
Mass of Christian Burial
Donations
Donations may be made in his memory to the Alice Ballard Fund of Hospice of the North Country, Inc., in Malone, NY.