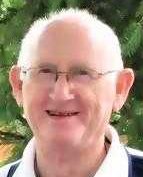 Obituary of Leland P. Marlow
Leland P. Marlow, 90, of Malone, NY., passed away Saturday evening, December 21, 2019, at The Alice Center, in Malone, NY., surrounded by his loving wife and family. He had been a resident there since September 30. 2016. Born in Malone, NY., September 22, 1929, he was the son of the late Herman and Cecelia LaGrave Marlow. He graduated from Franklin Academy High School in Malone, NY., and New York State University at Brockport, NY., with a Degree in Education. He served in the United States Army from 1948 until his Honorable Discharge in 1950. Leland taught Elementary School, fifth and sixth grade in Leroy, NY for many years. He later purchased a white washing business from Percy Prue in Malone, NY., and renamed it Shirley's Spray System. Lee served the farmers in the North Country for more than twenty years. He retired in 2016. He was a past member of the Malone Lodge of Moose. He was an avid sports fan and received great pleasure in watching his grandchildren at their sporting events. He also enjoyed bowling. On June 27, 1954, he was united in marriage to the former Gloria Wohlrab in Rochester, NY. She predeceased him on October 4, 1981. On June 15, 1985, he was united in marriage to the former Shirley Nichols in North Bangor, NY. She survives. Along with his wife Shirley, he is survived by one son and daughter-in-law, Leland "Paul" and Sandi Marlow of Duane, NY., five daughters and four sons-in-law, Gail and Gerald Frawley of Kissimmee, FL., Marybeth and Gil Ehmke of Newington, CT., Patricia and Paul Schuyler of Largo, FL., Maureen Vandervort of Voohersville, NY., and Sarah and Matthew Garland of North Bangor, NY., three stepsons and their wives, Francis LePage of North Bangor, NY., Charles and Shelly LePage, Jr., of Skerry, NY., and Patrick and Tammy LePage of Loomis, CA., four step daughters and their husbands, Cynthia and Larry Brown of North Bangor, NY., Lesley and Robert Tracey of Malone, NY., Terry Lee Mutty of DeBary, FL., and Candace and Paul Provost of Cornwall, Ontario, eleven grandchildren, two great grandchildren, nineteen step grandchildren, twenty six step great grandchildren and many nieces, nephews and cousins. Besides his parents and his first wife, he was predeceased by one sister, Muriel McGovern. There are no calling hours. A Graveside Service and burial with full Military Rites, will be held in St. Francis of Assisi Cemetery, in Constable, NY., on a date and time to be announced. Donations may be made in his memory to the Malone Lions Club. Online condolences may be made to his family at www.brusofuneralservice.com. Arrangements are through the Bruso-Desnoyers Funeral Service, Inc. in Malone, NY.
To send flowers to the family or plant a tree in memory of Leland Marlow, please visit Tribute Store
Donations
Donations may be made in his memory to the Malone Lions Club.