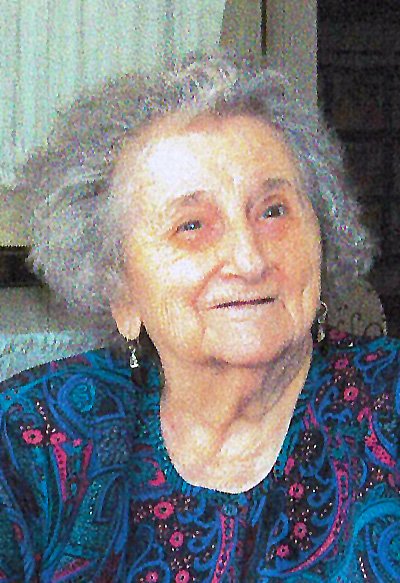 Obituary of Yvonne L. Wolchok
Yvonne L. Wolchok, 95, of Malone, NY., passed away Friday, February 7, 2020, at C.V.P.H. in Plattsburgh, NY. Born in Ste. Anicet, Quebec, Canada, February 20, 1924, she was the daughter of the late Joseph and Corinne Duheme Lauzon. Her family immigrated to the United States when she was five, and spoke no English. She graduated from Fort Covington High School, in Fort Covington, NY., with Honors. On November 11, 1943, she was united in marriage to Gerald Brockway at St. Mary's Church, in Fort Covington, NY. He predeceased her on September 9, 1975. She married Clarence LaDue on May 25, 1985, at the Holy Name Church in Tupper Lake, NY. He predeceased her on January 26, 1988. She later married Anthony Wolchok on October 6, 1990. He predeceased her on December 3, 1993. Yvonne had an incredible work ethic and was employed for more than thirty years at the Malone Dress Factory. She had also worked at Bea-Jay Manufacturing in Malone and Tru-Stitch Footwear in Bombay, NY. Yvonne also was an expert seamstress working out of her home for many years. She also worked on elections in the community for many years. She was a devout Catholic and a communicant of Notre Dame Church in Malone and a past communicant of St. Mary's Church in Fort Covington, NY. She was also a past member of the St. Mary's Altar Rosary Society. She was a member of the Malone Adult Center, Fort Covington Grange, and the Golden Age Club. Yvonne enjoyed sewing, playing cards, crocheting, needle point, quilting, knitting, flower and vegetable gardening, and watching Jeopardy. She was a devoted mother and a strong believer in the importance of family. Survivors include four sons and one daughter-in-law, Bryan Gregory Brockway, of Randolph, NY., Douglas and Candace Brockway of Rouses Point, NY., Geoffrey Brockway of Allentown, PA., and Richard Brockway of Phoenix, AZ., six grandchildren, Rebekah, Andrew, Matthew, Jacob, Steven and Daniel Brockway, two great grandchildren, Miriam and Ezekiel and many nieces, nephews and cousins. Along with her parents and three husbands, she was predeceased by six brothers, Roderique, Joseph, Ulric, John, Avila and Raymond Lauzon and three sisters, Germaine Trippany, Simone Southwick and Lucille LaCombe. Calling hours and a Mass of Christian Burial will be held on a date to be announced in the spring. Burial will be held in the Old St. Mary's Cemetery, in Fort Covington in the spring. Donations in Yvonne's memory may be made to the Malone Adult Center or the Malone Golden Age Club. Online condolences may be made to the family at www.brusofuneralservice.com. Arrangements are through the Bruso-Desnoyers Funeral Service , Inc., in Malone, NY.
To send flowers to the family or plant a tree in memory of Yvonne Wolchok, please visit Tribute Store
Donations
Donations may be made in her memory to the Malone Adult Center or to the Malone Golden Age Club.