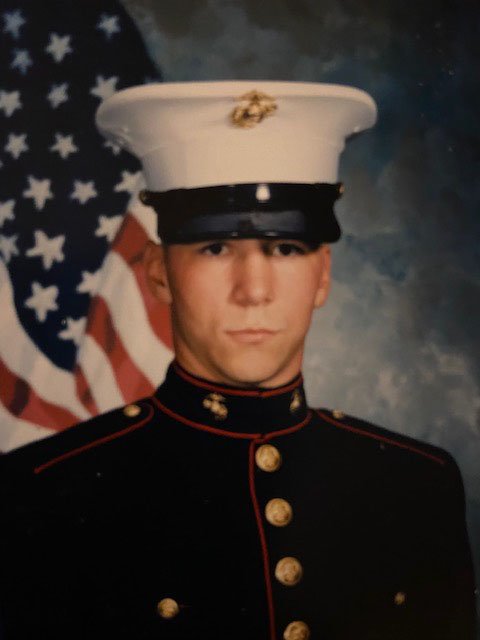 Obituary of Cory Scott Andrews
Please share a memory of Cory to include in a keepsake book for family and friends.
Cory S. Andrews, 43, of Westville, NY., was called to guard the gates of heaven on October 26, 2020, at his home, while under the loving care of his wife, children, and Hospice of the North Country, Inc. Born in Malone, NY, September 4, 1977, the son of Michael and Rosemary Lamay Andrews, Sr. He attended Franklin Academy, moving his senior year, and graduating from Red Hook High School, Redhook, NY in 1995. Upon high school graduation in 1995, at seventeen years old Cory enlisted in the United States Marine Corps as a Combat Engineer. In 1999, he was honorably discharged returning to his hometown and met the love of his life, Toni L. Bashaw. The two were united in marriage in 2012, at the Cooks Corners Wesleyan Church. She survives. Cory was a self-employed carpenter until he unexpectedly became ill in 2012. He was an avid outdoorsman and loved hunting, fishing, camping, he was a good marksman and made sure to pass this love on to his children. Cory was known for his uplifting sense of humor, always aiming to make those around him laugh. It brought him immense joy to coach Malone Youth Baseball, and the Malone Youth All-Star team. He assisted coaching Malone Youth Wrestling club, and Malone Mustangs Football team. He took pride watching his children play in their sporting events, always cheering and encouraging them, and their teammates to do their best. It is undeniable that Cory was the happiest when he was with his wife and children. He strived to make them smile and seeing them happy was always his priority. He would always say "Family is everything, the five of us together are unstoppable" Along with his wife, Toni, he is survived by his father Michael Andrews, Sr., of Hertford, NC, his paternal grandparents, Gary and Rose Jeror of North Bangor, NY together, Cory and Toni have three children who stood by his side, giving him the strength to continue fighting until his final moments. His son, Jarett Andrews and two daughters, Karina and Lanie Andrews will forever cherish the memories of their father thriving to make him proud, carrying on his legacy. Cory has one brother and sister in law Michael and Jodi Andrews, Jr. of Malone, NY the two brothers shared a love of sports and coon hunting. One sister, Buffy Monica of Constable, who he loved to pick on, and loved dearly. The three siblings shared some of their best memories when gathering for Sunday dinners, nieces and nephews, Justin Andrews, Gregory, Zachary, and Abby Monica, and Rylee Andrews. Everett Andrews of Malone, NY had a special bond with Cory growing up more as brothers rather than cousins. Joshua Hernandez Sr. was a cousin in law who he loved like a little brother, they enjoyed UFC, hunting, and having holiday dinners together, Cory loved Josh's children Aleaha, Joshua Jr, and Sophia considering them his nieces and nephew. Christy Bashaw of Albany, NY was the little sister he never had they would sometimes disagree, but he always loved and protected her. Beloved aunts, uncles, cousins, and many dear friends. Cory also leaves behind his USMC brothers, the bond he had with each of them is indescribable. He was predeceased by his beloved mother, Rosemary Andrews, his maternal grandparents Daniel Lamay, his sweet Gram Ethel Spinner, and paternal grandfather Charles (Babe) Andrews Sr. A Funeral Service will be held on Saturday, November 7, 2020, at 2 p.m. ,at the Cooks Corners Wesleyan Church, with the Rev. Bentley McQuinn officiating. A Military Service will follow, provided by members of the Malone American Legion Post, 219. Donations may be made in his memory to the Memorial Sloan Kettering Cancer Center. Online condolences may be made to the family at www.brusofuneralservice.com. A reception will follow at 3:30 p.m., at the AMVETS on the Whippleville Road in Malone, NY. Arrangements are through the Bruso-Desnoyers Funeral Service, Inc. in Malone, NY.
To send flowers to the family or plant a tree in memory of Cory Andrews, please visit Tribute Store
Funeral Service
2:00 pm - 3:00 pm
Saturday, November 7, 2020
Cooks Corners Wesleyan Church
17 Avery Road
Brushton, New York, United States
Funeral Service
Reception
Reception 3:30 P.M.,at the Amvets on the Whippleville Road in Malone, NY.