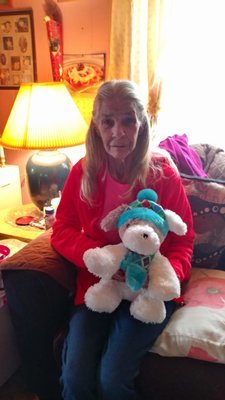 Obituary of Ethel Bessey
~Ethel J. Bessey, 83, of Malone, NY., passed away peacefully Friday afternoon, August 18, 2017, at her home, surrounded by her loving family. She had been under the care of her family and Hospice of the North Country.
Born in Malone, NY., August 5, 1934, she was the daughter of the late Elmer and Anna May Jock Shutts. She attended local schools.
On December 10, 1950, she was united in marriage to Byron H. Bessey in Malone, NY. He predeceased her on May 1, 1975.
Ethel was employed by Tru-Stitch Footwear in Malone for several years. She later worked at the Jess Chapin Strawberry Farm, in North Bangor, NY. Her last employment was at the East End Diner, where she retired from in 1991.
She enjoyed bingo, lottery tickets, puzzles, garage sales and gardening. Her favorite times were spent with her family especially her grandchildren.
Survivors include five sons and two daughters-in-law, Byron H. Bessey of Malone, NY., Albert R. and Noreen Bessey of Bombay, NY., John E. Bessey of Malone, NY., Darrel J. and Betty Jo Bessey of Bakersfield, VT., and George W. Bessey and his companion Mary Rust of Malone, NY., four daughters and two sons-in-law, Dale and Randy O'Neil of Westville, NY., Doreen Rust of Malone, NY., Lori Sharlow and her companion, Dale Marlow of Malone, NY., and Margaret "Peggy" and Allen Benware of Malone, NY., twenty two grandchildren, twenty five great grandchildren, two great great grandchildren and many nieces and nephews.
Along with her parents and her husband, she was predeceased by twelve brothers, Elmer "Sonny", Gerald "Skeeter", George, Lawrence, Mason, William, Donald, Robert, Winfred, Raymond, Leon, and Franklin Shutts and seven sisters, Viola White, Violet Sturgeon, Vivian Lavare, Florence Boardway, Mary Deno, Corinne Shutts and Leona Shutts.
Calling hours will be Wednesday from 10 a.m. until Noon at the Bruso-Desnoyers Funeral Home, in Malone, NY. A Funeral Service will be held at Noon in the funeral home chapel, with the Rev. Joseph Selenski officiating. Burial will be in Morningside Cemetery in Malone, NY.
Donations may be made in her memory to the St. Jude's Children Fund.
Arrangements are through the Bruso-Desnoyers Funeral Service, Inc. of Malone, NY.
Online condolences may be made to the family at www.brusofuneralservice.com.